Good news! Porsche PIWIS 3 V42.100.02 + V38.250.000 pre-installed on Lenovo Yoga i5 8G Touch Screen Laptop Free Update.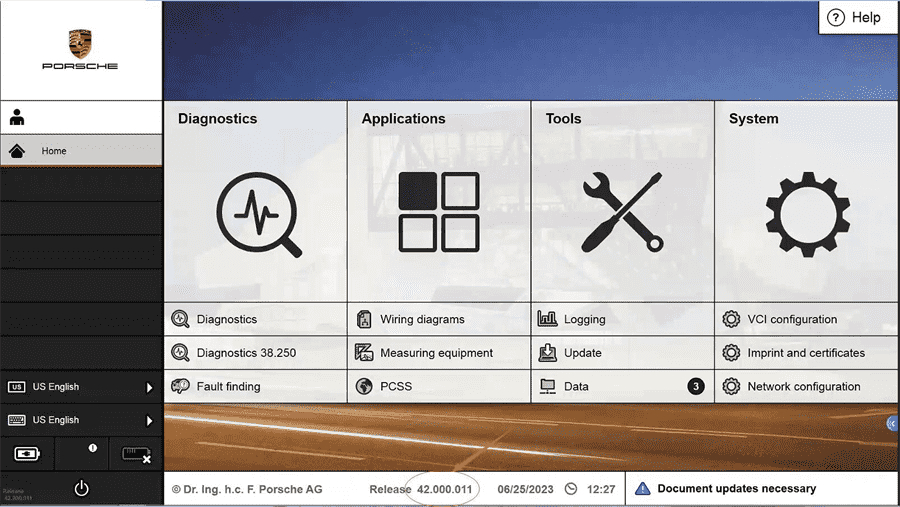 The PIWIS 3 (PST3) is the newest Diagnostic Tool in the market.It can read trouble code, clear trouble code, shows ECU information.It test live data, display actual values, and programs.On all; process malfunction navigation, showing all interior circuit diagram.Specially if were produced after 2005. The PIWIS III has original oscillometer and multi-meter Function.It is the absolutely necessarily tool for the job.
1. Piwis 3 With V42.000.011 Piwis III Software for Porsch Cars diagnostic & Programming.
2. Piwis 3 with developer mode software Installed Lenovo Laptop Ready To Use, cover all piwis 2 functions.
3. With New DoIP Ethernet diagnostic technology,Supports Porsche Models after 2002.
PIWIS III with Piwis 3 Software Details:
1.Dual System: V42.000.011 + V38.250.000
V38.250 (with Engineering software support offline programming)
V41.900.22 (with Engineering software support online programming,but you should have an online account and certificate)
2.Functions: Diagnosis and Programming
3.Update: By SSD
4.Connection: Via USB or Wifi
5.Multi-Languages: German, English, US English, French, Italian, Spanish, Japanese, Chinese, Russia, Portuguese, Nederlands
6.Vehicles Coverage: Support all Porsche till Nowadays
Piwis III Supports New & Old Cars:
For All Porsche from 1998-2023:
1.Porsche 911(997) (991)
2.Boxster/Cayman (987)
3.Cayenne up to MY 2010
4.Cayenne from MY 2011
5.Panamera
Especially the latest models:
1.Paramera (971) 2023
2.Caynenne (92A) 2023
3.Macan (95B) 2023
4.911 (991) 2023
Also support All Other Old car models
PIWIS TESTER PIWIS3 Features & Functions :
1.New operating system and more intuitive software interface
2.New VCI, support for models with DoIP diagnostics after 2017
3.Maintenance, repair, control unit replacement, programming code
4.Login online anti-theft matching programming
5.Guided fault finding
6.Maintenance circuit diagram view
7.Engineer mode (development version) can support special functions such as installing, modify, Flash.
In order to test older Porsche models, our hard drive is also equipped with the software for PIWIS 2. You can test older Porsche models with both the software and hardware of PIWIS 2 and PIWIS 3.
Piwis 3:V42.100.02+V38.250.00
Piwis 2: V18.100.00
How to use Piwis 3 Engineering Mode
1.You need to set the engineer mode (E mode), it is recommended that you disconnect the car connection of the diagnostic interface PT3G VCI;
2.System-Diagnostics configuration for other model lines;
Change mode E,SAVE.
3.System-Diagnostics configuration for 911,981,918.970,Cayenne from 2011,Macan,change mode E,Save;
4.Connect porsche car,use PT3G VCI;
5.Automatically identify the model, or select your model series, enter the diagnosis, you will find that the ecu name is in German, indicating that the engineer mode has been enabled, and you can now code and change the ecu information;
6.If you want to change the ecu information, you need to translate German, good luck.