Autel MaxiSys Pro MS908P products in the OBD2 Scanner site have a good price $ 2150, which includes not only a two-year free upgrade, but also shipping. Here are some of the customer's real evaluation of this product.
Review 1:
Ok so some of the reviews scared me a little, after reading about all the nightmares I was skeptical about buying Maxisys Pro MS908P since I'm just a weekend warrior it's a lot of money for that but since I have a BMW, Hyundai, and a Dodge truck as well as my kids cars I figured I wanted to buy it.
Let me just say I had no problem registering this online at Autel and I took serial number and password right from the machines screen as they show online. After I registered I also installed the CD that was supplied I did that no issues. Then I bought a 32GB sd card (Ultra) not that it matters but that's the max, I clicked install all updates on the card and boom all went on. Then I took the card out of the machine the 8GB supplied and updated that as a back up. I'm also gonna order one more 32GB to keep in the safe. No issues at all my serial number had a Q in it which is the USA one. My wifi works good as well.
So far I have not used it much but man I'm so excited I cannot wait. I plan on making some keys first. Any questions please ask. You won't regret buying it I promise.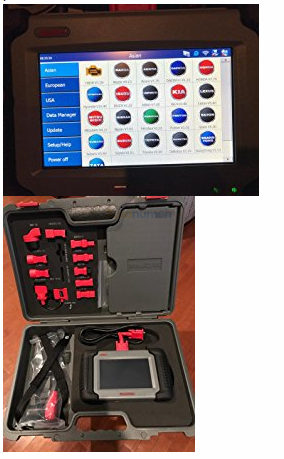 Review 2:
The maxidas is the best scanner hands down …..ive used all the major brand tools and the maxidas exceeds those high dollar pos…it ships with a class 4 ..4gb card, but I upgraded to a sandisk class 10 ..16gb and now this thing runs so much faster..a necessary upgrade for me.
Review 3:
I wanted to write this review to hopefully help some others out there. One thing that I really wanted the ability to do is program keys. I could not find any good hard information that this was supposed to program keys. Because of this, I was leaning towards the older DS-708. I decided to give Autel US a call and gather some information.
They told me that the MS-906 was the replacement for the DS-708, but the DS-708 was end of life. They said if you buy a used one, and something happens to the card, then it will essentially be a brick if you don't have a backup. They also told me that the Autel Tools Autel MS906 would not program keys and that I had to get the pro version that was quite a bit more expensive. This did not make sense to me because if the MS-906 replaced the DS-708, it should do everything that the DS-708 does.
I ended up messaging the seller on Amazon, and he told me that it would not as well. I figured I would order it and I could always return it. Turns out, the MS-906 DOES program keys! I'm very impressed with the scanner. Comparing it to an older Snap-On Solus, it blows it out of the water! The graphing is nice, has a TON of features!
I am very happy with my purchase. Your 1 year worth of updates starts from the time that you register the device. The problem is, you HAVE to register it before you can use it all. Therefore if your plan was like mine and to use it for 2 years or so, then register it to get the free year worth of updates, then that will NOT work.