Truck Diagnostic Tools are essential for commercial truck fleet operators and maintenance technicians because they provide detailed information about the health of a truck's engine, transmission, and other systems. This information helps fleets optimize performance and minimize downtime by identifying potential problems early. Scan tools can also provide useful data for diagnosing and repairing trucks that experience unexpected breakdowns. By troubleshooting problems with the help of a scan tool, fleets can get their trucks back on the road faster, minimizing lost productivity.
whats the best Diagnostic Tool for truck in 2023?
1. John Deere Service Advisor
John Deere EDL v2 Interface & Service Advisor Diagnostic Kit:
1.Latest Service Advisor 5.3 AG and CF
Service Advisor 5.3 CF & AG ALL Data Base Up To 2021
JD Service ADVISOR 5.3 [2021] AG (Agriculture Equipmen).
JD Service ADVISOR 5.3 [2021] CF (Construction and Foresty)
2.One Year Warranty On All – Software & Hardware !
John Deere Service Advisor EDL (Electronic Data Link) heavy duty diagnostic adapter for construction equipment, agriculture, engines John Deere.
Support Languages: English, French, Italian, Spanish, Portuguese
John Deere Diagnostic kit includes software John Deere Service Advisor Agriculture or Construction and Forestry version.John Deere Service Advisor Agriculture workshop service manual, repair manual, electrical wiring diagram, hydraulic diagram, diagnostic, assembly and disassembly engine, transmission.
1.JD Service AG (Agriculture) Advisor
John Deere AG Management Solutions, Attachments, Backhoes, Combines and Headers, Cotton Harvestings, Excavators, ForkLifts, Hay and Forages, MAte Hand Cut and Shredderses, Plantings and Seedings, Skid Steers, Sprayers, Sugar Cane Harvesters, Tillages, Tractors, Worksite Pro Attachments.
2.JD Service CF (Construction and Forestry)Advisor
John Deere Service Advisor CF (Construction and Forestry), workshop service manual, repair manual, diagnostic, electrical wiring diagram, hydraulic diagram John Deere.
2. Noregon JPRO Professional Truck Diagnostic Scan Tool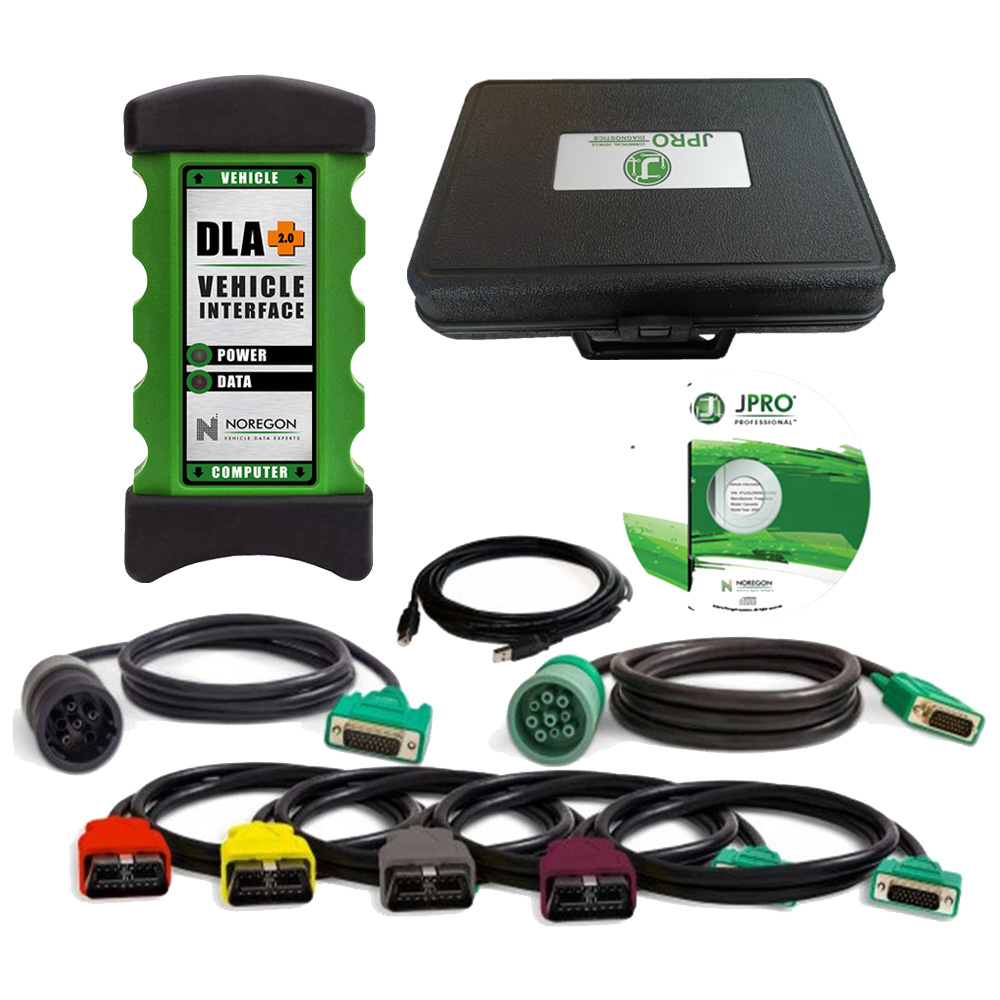 JPRO Professional truck scanner is the most comprehensive and powerful all makes, all models diagnostic tool available in the industry today. In one, easy annual subscription, JPRO provides a complete & unparalleled diagnostic service & repair solution with bi-directional functionality.
Noergon's DLA+ 2.0 adapter is a diagnostic communication device designed to interface between a vehicle and PC via USB cable for diagnostic and vehicle information, re-programming or parameter adjustments.
JPRO Truck Dignostic Tool Features:
1.Includes Heavy-Duty Modules: Mack, Volvo, Cummins, Detroit Diesel, International & PACCAR
2.Includes Medium-Duty Modules: Ford, GM, Isuzu & Sprinter
3.Bi-Directional Controls – Perform parameter changes (Mack & Volvo), DPF Regens (Mack, Volvo, Cummins, Detroit Diesel, International & PACCAR) & bi-directional tests with proprietary data & faults
4.OE Level Fault Code Information – Display over 99% of Heavy-Duty & Medium-Duty fault codes with detailed OEM level component and trailer descriptions
5.Fault Management – Clears faults and diagnoses all vehicle components in a single, easy to use application
6.Vehicle Reporting – View and print log files, including: Vehicle Health, Trip Reports & LOV Reports
7.Store & Save Data – Record data log files for playback at a later time, even away from the truck
8.Total Vehicle Health Status – See the entire vehicle in one pass on one screen + Up-to-Date – Provides 99% coverage of all heavy-duty truck DTCs through 2023
JPRO Professional Diagnostic Basic Coverage includes the ability to read & clear codes on the following list. You can also view all live data and perform basic diagnostics.
3. CAT Caterpillar ET Diagnostic Tool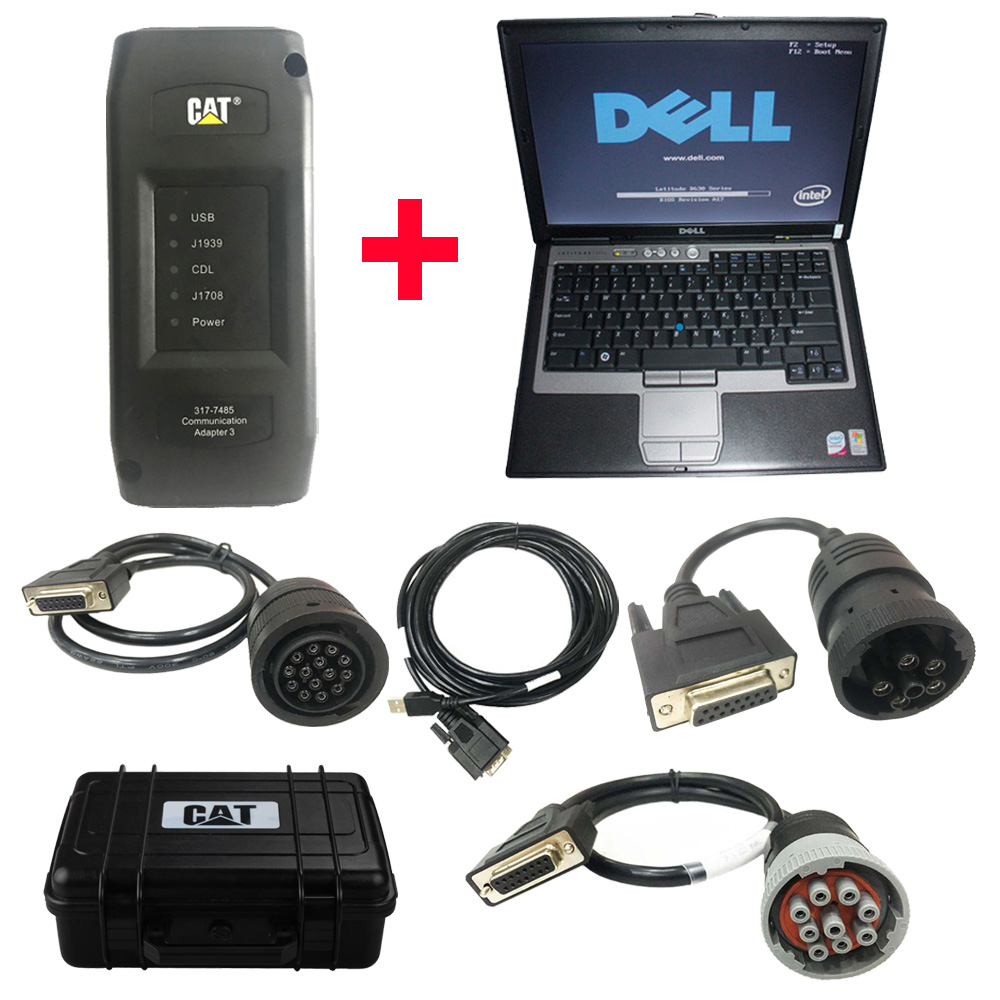 Top 5 Reasons To Get CAT Caterpillar ET Diagnostic Tool Adapter 3
1. Latest Version:2023A 2019C(option), pls note: 2020-2023 software version include the 10 factory password generator. when you push the ctrl+f2 shortcut button,you can open the 10 bits of password generator.
2. Supported Operating System: Windows 7 32 bit, Wnidows 7 64 bit, Windows 8/8.1 32 bit, Windows 8/8.1 64 bit, Windows 10 32 bit, Windows 10 64 bit
3. We will activate it after installing 2023A 2019C version software.(After the installation , please contact us help you active the software by remote)
4. Supported Language: Chinese(Simplified),Danish, German(Germany), French(France), Portuguese (Portugal), Japanese, Spanish (tradition), Italian(Italy), English(America)
5. Support caterpillar diagnostic till 2023
Caterpillar electronic technician 2023A (replaces CAT ET 2021C, 2021B, 2021A, 2020A, 2019C, 2019B) with WinFlash future is an updated version of the caterpillar dealer diagnostic software that can help technicians to diagnose existing and potential problems with their electronically controlled Caterpillar Engines and Machines.
2023A Caterpillar Electronic Technician softwarer With CAT ET 3 Cat caterpillar adapter 3 support caterpillar diagnostic till 2023.
4. New Holland Electronic Service Tools 9.8
New Holland Electronic Service Tool allows you to:
• Check the status of parameters;
• Retrieve faults;
• Run diagnostic tests;
• Make ECU and parameter programming;
• Monitor active and logged diagnostics;
• View and change ECU configuration;
• View diagnostic procedures and schematics.
• Troubleshoot problems;
• Run scope diagnostics;
E.A.S.y – additional engine diagnostic and download tool for connection directly to ECU to perform diagnostic, programming and ECU reload by K-Line protocol.
CNH Engine Download T
ool operates from within the EST program to perform the following engine download operations:
• Provide Engine Control Unit (ECU) programing update capability;
• Provide blank ECU initialization and programming capability;
• Provide ECU programming reassignment for blank and other ECUs;
• Provide ECU download crash recovery.
5. Volvo Vocom 88890300 V2.8, Development Edition
2nd in our rate came Volvo Vocom II .
It can offer complete range of diagnostic operations for Volvo heavy duty vehicles made since 2002 with available high speed connection to the ECU via high quality cable.
This diagnostic tool is designed with a focus on robustness and durability to withstand the tough workshop environment.
The set of plug-ins, user authorizations, and available languages is adjustable to provide every user with what they need.
6. Perkins EST Interface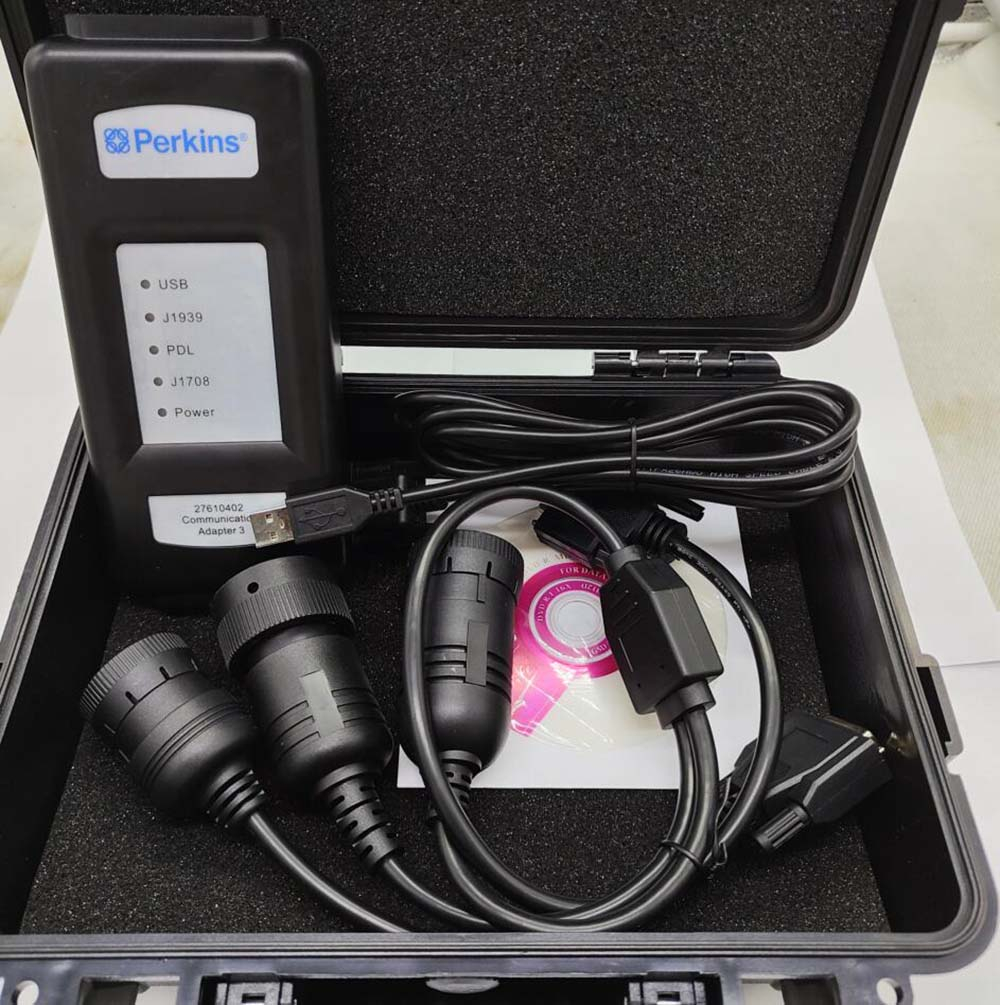 EST is comprised of a hardware and software PERKINS EST Diagnostic Adapter . EST is comprised of a hardware and software EST is comprised of a hardware and software interface kit, which a user can use to communicate with Perkins 2300/2800 electronic engines (FG Wilson 300 750 KVA range) and FG Wilson Powerwizard control panels. This communication is established via a J1939 data link. All in all, the EST interface kit provides the user with an effective tool in diagnosing engine problems and the ability of configuring system parameters.
Highlights:
1. Firmware Version : Adapter III , not Adapter II
Software Version : EST 2015A 2022A install IN ONE PC by team viewer
2. With Fast USB communication
3. Operate System:Windows7 and win10
4. Compatible Vehicle: For Trucks, Excavators, Air Compressors, Ships, Drilling Rigs
5. Support Multi-Languages: English, Chinese, Danish, French, German, Italian, Japanese, Portuguese, Russian, Spanish
7. JCB Electronic Service Tool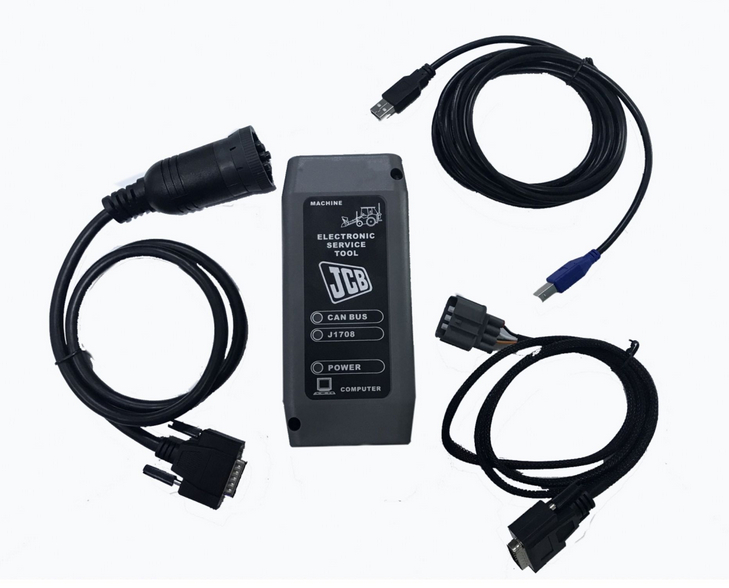 JCB Electronic Service Tool diagnostic interface is used for fast and effective fault finding, check maintenance standards, see if the machine has been abused, view and change machine set up data, flash ECUs with the correct data files. You can reset EMS hours, edit speed limiters and use other functions what require special unlock.
JCB Service Master is a gateway application allowing a large number of Vehicle Support Applications to be linked using one familiar interface. The interface acts as a graphical tool for selecting the target vehicle from a groups of Vehicle Families and triggering the particular Service Tool Application desired. This removes the need for a user to 'remember' every individual service tool available and select which one if intended for a particular machine.
The JCB Service Master also provides several key features that will accompany all JCB projects, a Multi Language editing tool that provides a means of individual text string translation for all JCB Applications and a means to select a localised language translation for the each JCB Application.
8. WABCO DIAGNOSTIC KIT
WABCO System Diagnostics (SD) consists of a range of Windows based software solutions and all the hardware necessary to carry out diagnostic work on every WABCO system.
A wide range of diagnostic hardware completes the System Diagnostics package:
easy-to-use blink code plug, digital testers, conformity test unit, adapters and cables, and a complete test bench.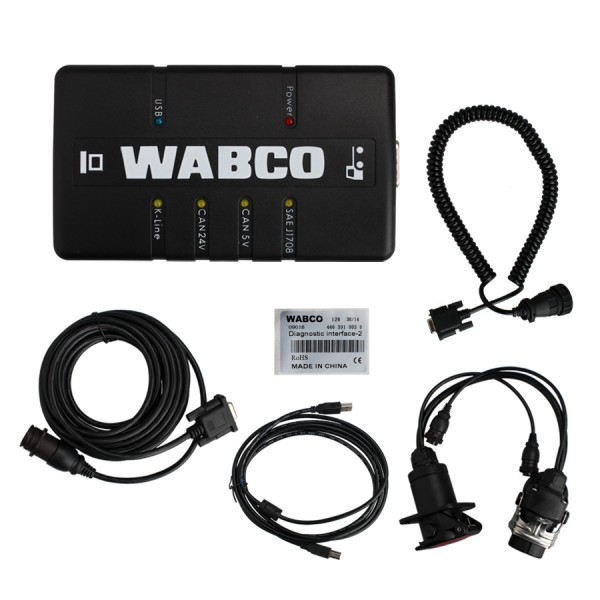 9. NEXIQ USB Link
NEXIQ-2 USB Link Packed Software and Application:
– Allison (Included!)
– Bendix 6.3.8.0 (Included!)
– Detroit Diesel DDDL 7.05 ((Included!)
– Detroit Diesel DDCT (Included!)
– Detroit Diesel Calibration Tool (Included!)
– Eaton Service Ranger 3.2 (Included!)
– International DLB (Included!)
– International ICAP, IPTS, NETS, IPC (Included!)
– International Master Diagnostic (Incluided!)
– Meritor and Wabco Diagnostics (Included!)
– Cummins Insite 7.5 (Included!)
– Hino 2.0.2. (Included!)
– Caterpillar 2.0.1.0 (Included!)
– Perkins EST 2010B (Included!)
– V Macks 2.6.12 (Included!)
– V Macks Dealer Pro (Included!)
– Volvo VCADS 2.35.10 (Included!)
– Toyota Techstream for car (Included!)
10. Cummins INLINE 6 and Cummins INLINE 7
5 Reasons for Cummins INLINE 6:
1. The INLINE 6 can communicate with your PC through a 9-pin serial connector. The INLINE 6 also can communicate with your PC over a Universal Serial Bus (USB) through a 4-pin standard connector. The INLINE 6 adapter connects to vehicle power, the SAE J1708/J1587 data link, and two CAN/J1939 data links via a 25-pin serial connector.
2. With full compliance to the Technology and Maintenance Council's RP1210 standard, the INLINE 6 will work with the latest Cummins INSITE, PowerSpec and Calterm III software applications.
3. It will also work with any other software applications that are fully compliant with the RP1210 standard (note that while some non-Cummins applications fully support RP1210, others do not, so you should test each application in question with the INLINE 6 adapter to make that determination).
4. The eye-catching INLINE 6 breaks new ground by utilizing the latest elec
tronic technology to deliver high performance and high quality at an attractive price.
5. Each Cummins INLINE kit contains a data link adapter, basic cables, and the INLINE PC software driver. Load the software driver, connect all the hardware, and you are ready to start a new era in data link adapters.
New Cummins engine diagnostic tool Cummins INLINE 7 Data Link Adapter has a faster processor, more robust algorithms, larger memory buffers and more sophisticated filtering than previous models while simultaneously accessing multiple vehicle data channels. INLINE 7 supports USB, WiFi and Bluetooth technologies in a single device. INLINE 7 communicates with your PC and is designed for future capability with mobile products.