TACHOGRAPH PROGRAMMER  CD400 for Truck speedometer and odometer mileage correction kit
Product Description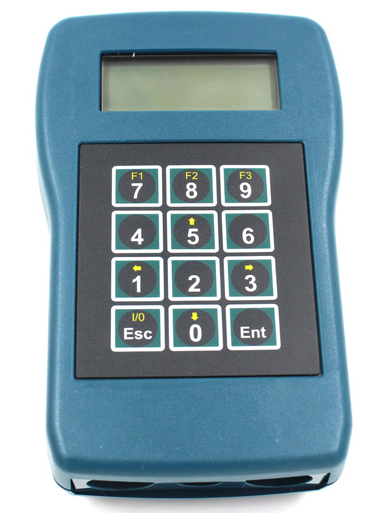 CD400 tachograph programmer is designed for programming and maintenance of tachographs made by various manufacturers. It comes with a full set of necessary cables for direct connection to supported tachograph devices. CD400 tachograph programmer is easy to use, it has display and intuitive menu (available interface languages: English, Deutsch, Espanol, Francais, Nederlands, Portuguese, Turkish, Romanian, Russian) for parameter or operation selection, also it has keyboard for input of parameters and controls. CD400 tachograph programmer can be upgraded through internet connection. There is no need for additional power source, CD400 will be powered by tachograph (except K13xx/1318 and FTCO1319). Just connect programmer to supported tachograph with compatible cable and you're ready to go. This device allows you to execute a lot of functions and change various parameters (even odometer programming), some functions doesn't requires workshop card.
CD400 can measures and records the speed and distance driven by a vehicle. The data are recorded in the form of graphics on a paper disk.
The new digital tachographs record those data on its embedded memory and also on the smartcard of the driver.The Tachograph programmer CD400 calibrates and programs all analogue and digital tachographs.
Supported Tachographs:
Analogs: KTCO 1314/1318, Motometer EGK100, FTCO 1319, MTCO 1324/1390, TSU 1391, VR2400.
Digitals: DTCO 1381 (DTCO® 2.1 active), SE5000 (Exakt Duo), SmarTach, EFAS-4.
A Workshop Card is required to calibrate the digital tachographs
Tachograph Programmer CD400 Functions
W figure determination on measuring track (with optional photo-cell) or rolling road.
K figure measure on KTCO 1314, KTCO 1318 and FTCO1319.
Parameter programming.
Activation and deactivation of IMS (Independent Motion Signal).
Activation and deactivation of VDO counter.
Odometer reset and adjustment (mileage correction).
Speed simulation and customizable automatic test diagram.
DTCS reading (Digital) and erasing.
Sensor pairing (KITAS activation).
Clock test.
Workshop card's PIN recording and input through CD400.
Tachograph Programmer CD400 Technical Specifications:
Graphic FSTF LCD Display: (100 x 32 pix. / 4 lines x 20 char)
White LED backlight
Size: 150 x 100 x 45 mm
Supply voltage: 9 to 30 VDC
Supply current: 12mA
Case: green-blue ABS (IP40).
Operating temp: -20…+70°C
Weight: 155g
Package Including
1pc x CD400 – tacho programmer
1pc x Cable for 1319
1pc x Cable for 13ХХ/1318, V.Root 8400
1pc x Cable for EGK-100
1pc x Cable for 1324
1pc x Cable for V.Root 2400
1pc x Cable for CA-RS232-1
1pc x Cable for digital tacho
1pc x Manual