Xentry Diagnostic OpenShell XDOS is a specialized diagnostic software from Mercedes-Benz. With this software, you can diagnose all systems of all Mercedes models, including trucks, construction machinery, and the same group of vehicles as Mercedes-Benz, Smart, Maybach, Fuso… Update 06.2022 is the most current updated version.
Mercedes Benz C6,Xentry diagnosis VCI,BENZ C6 DOIP,,benz c6,MB star C6,MB SD Connect C6,Xentry C6, by Xentry Diagnostic OpenShell software is a specialized software from Mercedes, which supports all functions from installation, repair instructions, indicating damage locations on the vehicle, programming, and coding the electrical control system. Make your job super easy.
MB Star C6 XENTRY Diagnostic VCI Software Include:
1.DAS / Xentry V2023.06
Xentry:the automatically Diagnosis Assistance System
DAS: New software released by Benz Company after 04/2009 by diagnosis new cars.
2.WIS net 2021.07: Workshop Information System
Supply the whole view of the wiring diagram in a car, component location diagram, and maintenance method. What you do is to enter the chassis number, and then you will get the manufacture data, engine configuration, and the car model -all in detail.
3.EPC net 2018.11: Electronic Parts Catalog
4.ST Finder 2020, StarFinder : 2022,StarFinder : 2008 optional: a Part location finder
5.SDmedia 2015.01
6.This C6 hardware not support Vediamo
7.DTS 9.02 + DTS8.13: Engineering software for offline programming
1) Fix the error that Mercedes-Benz DAS cannot directly call WIS
2) Join the DAS sedan smart offline programming
3) Join the 204 DAS stand-alone version, which can be mutated (German), which is more powerful than Vediamo
4) Join DAS special function password-free access PKW and SMART
5) Repair SMART 450, 451, 452, 454 No longer need TAN Calculator, all offline
6) Increase offline EOL and VMAX all LKW, modify truck maximum speed limit
7) Lift the truck NOx TORGUE restriction, do not need FDOK XT calculation code, directly enter, directly cancel the legal speed limit, you can modify without special function
8) Clear the truck SCR/ADBLUE fault code (MR), do not need FDOK XN calculation code, enter it directly
9) Add DAS 212,207 prototyp model
10) Add Xentry special features and the VeDoc calculator ($30 for activation)

The Mercedes C6 diagnostic is the latest and most advanced diagnostic equipment for Mercedes models on the market. MB Star C6 is an upgraded version from 2 versions of Mercedes Benz Star C4 and C5 before that. This is definitely a perfect diagnostic version and the optimal solution for garages, and service shops specializing in repairing Mercedes Benz models on the market.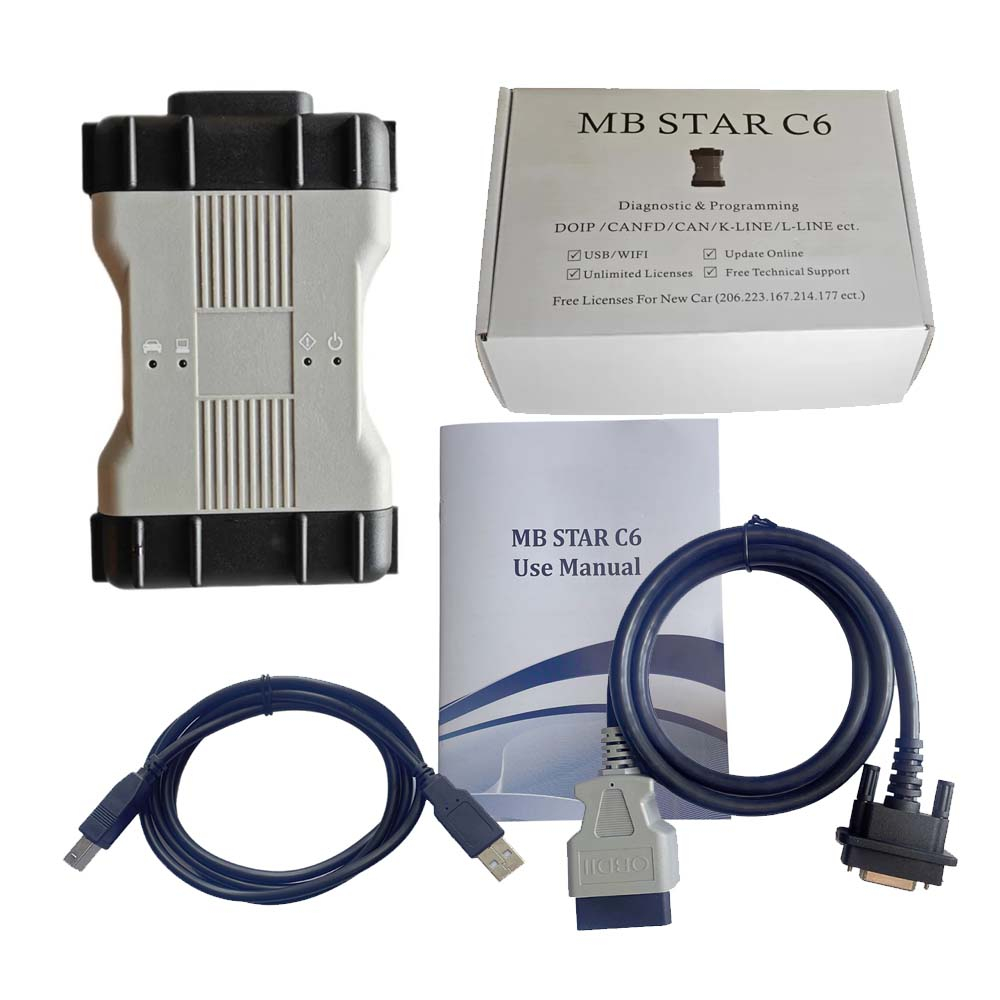 MB SD C6 Supported Vehicle List:
Passenger Car Support List:
A(176), A(169), A(168), B(246), B(245), CLC(117), C(204) C(203), C(202), 190(201), E(212), E(211), E(210), 124(124), S(222), S(221), S(220), S(140), S(126), E(207), CLK(209), CLK(208), CLS(218), CLS(219), CL(216), CL(215), CL(140), SLK(172), SLK(171), SLK(170), SL(231), SL(230), SL(129), SL(107), SLS(197), M(166), M(164), M(163), G(463), G(461), E(212), E(211), E(210), 124(124), S(222), S(221), S(220), S(140), CLK(209), CLK(208), CLS(218), CLS(219), CL(216), CL(215), CL(140), SLK(172), SL(231), SL(230), SL(129), SL(107), SLS(197), M(166), M(164), M(163), G(460), GL(164), GLK(204), R(251)
Van Support List:
MB 100(631), T1, SprinterIII, SprinterII, SprinterI, Sprinter900, Citan, Vito(639), Vito(638), V(638), Viano(639), T2, Vario, Vaneo(414)
Truck Support List:
Actros963/4, Actros2,3, AtegoIII, AtegoII, AxorII, Eonic, Zetros, Actros, Atego Light, Atego Heavey, HPN M96, Atron, HPN M2000, SKL, FSK, Further model series
Unimog Support List:
U20, UGN, UHN
Bus Support List:
TRAVEGO, INTOURO, INTEGRO, CITARO, CAPACITY, CITO, TOURISMO, O350/ O403, CONECTO, O404, O405- O408, Minibus, OC500, TOURO, TOURINO, MBC, MULITEGO, O500, O500/ OH, OH, OH368, OF, OF384, LO, O400, FURTHER MODEL SERIES
Super Sports Car Support List:
SLR(199)