Autel MaxiSys Pro MS908P Autel MS908 Pro :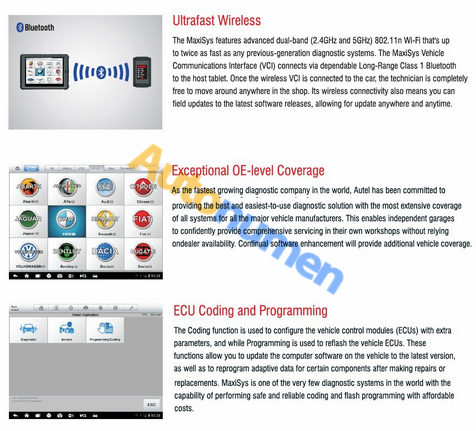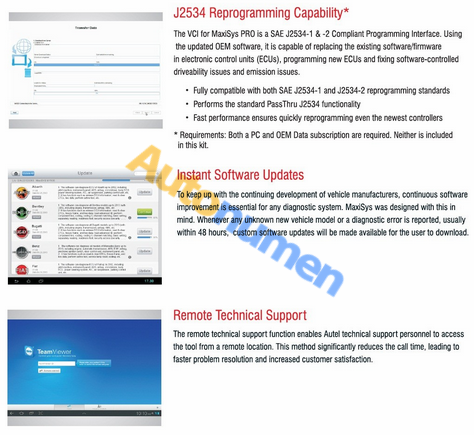 AUTEL MAXISYS Pro itself has already supported ECU programming function for BENZ and BMW cars, if you need to get support for more car models, you must use J2534 device along with OEM software to implement this function. J2534 DEVICE can not only use with AUTEL MAXISYS Pro , but also can work on other OEM software.



Using additional OEM software, the MaxiFlash Pro can be used as a Pass-Thru diagnostics tool as well, which allows users to read and clear Diagnostic Trouble Codes (DTCs) and data log PIDS, collect sensor data and log generic OBDII data etc.
AUTEL MaxiSYS Pro MS908P Software Advantage:
Open source Android Operating System for fast boot-up and multitasking
Easy and intuitive navigation makes finding what you need simple and fast
Displays live data in text, graph and analog for easy data review and analysis
Configure live data display options, set alarms, record, and playback data frames with one touch
Records and playbacks live data to pinpoint troubles of sensors and components
Cloud-based Data Manager saves customer and vehicle records, scanner data and technician notes
Remote technical support for convenient demonstration, training and increased customer satisfaction
Intelligent memory of vehicles for easy and quick diagnosis of tested vehicles
Prints out recorded data anytime and anywhere with Wi-Fi technology
AUTEL MaxiSYS Pro MS908 Pro FAQ:Q1:Can I use it to do gearbox programming of the Toyota MMT and Mitsubishi?
A1:Sorry, it can not.
Q2: Can I connect the MaxiSYS Pro MS908P with my car in other way? Such as
the bluetooth. Or I can only connect through the cable?
A1:The device include one Ipad with one diagnostic box. The diagnostic box
communicate with the Ipad by bluetooth. But diagnostic box need to connect cars by cable or connector.
Q3: Can I use the AUTEL MaxiSYS Pro MS908P to program the ECM module?
A3: Some cars can do. Some cars can not.
Q4: What is the difference between the AUTEL MaxiSys MS908 and the AUTEL
MaxiSYS Pro MS908P?
A4:AUTEL MaxiSYS Pro MS908P can do the programming function, while the
MS908 can not.