AURO OtoSys IM100 is auto diagnostic tool and car key programmer, based on a 7-inch Android touchscreen tablet, and equipped with the key programmer UP200, the OtoSys IM100 provides unparalleled Immobilizer and Key Programming functions as well as OE-level diagnostic functions and services.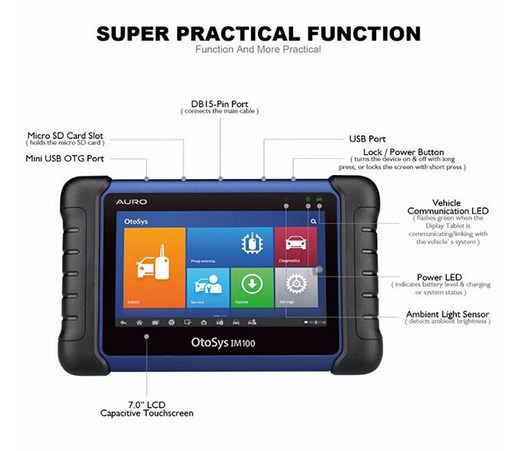 AURO OtoSys IM100 Features:
* Support IMMO functions for different makes and models.
* Equipped with UP200 to support transponder read/write/identification, ECU/EEPROM chip read/write and IMMO password read.
* Display live data is text, graph & analog for easy data review.
* Auto VIN technology can automatically identify the vehicle's make, model and year information in no time.
* Support relearn parking brake pad after replacement.
* Support forced regeneration and adjusting injectors.
* Support Steering Angle Sensor (SAS) services.
* Support service mileage and service intervals reset.
* Support TPMS sensor relearn.
* Support battery registration and reset.
* Support online update.