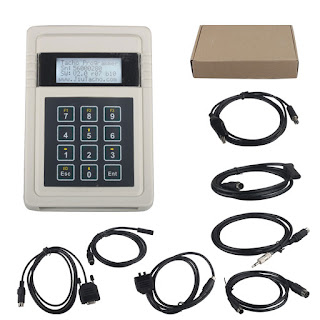 07-18-2015 update
Multilanguage Tacho Programmer (Truck,Bus) CD400 Programmer drop to $745 Free Shipping sold at autonumen.com:
https://www.autonumen.com/goods-5023-Tacho-Programmer-CD400.html
Tachograph programmer is used for what?
Multilanguage Tachograph programmer (Tacho) CD400 is designed for verification, calibration and configuration of control devices (tachograph) when installed on vehicles. The device allows you to define the W figure determination on measuring track or rolling road, K figure measure, can be used as speed simulator for the tachograph when checking the speedometer and odometer.
Tachograph programmer package shown as follows: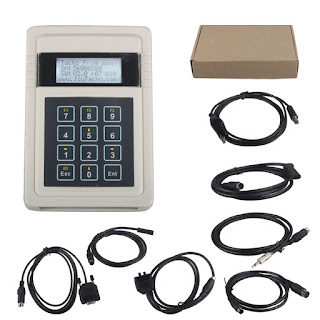 Tacho programmer main unit, cable for 1319, cable for 13ХХ/1318, V.Root 8400, cable for EGK-100, cable for 1324, cable for V.Root 2400, cable for CA-RS232-1, cable for digital tacho
The Tachograph programmer calibrates and programs all analogue and digital tachographs.
Analogs: KTCO 1314/1318, Motometer EGK100, FTCO 1319, MTCO 1324/1390, TSU 1391, VR2400.
Digitals: DTCO 1381 (DTCO® 2.1 active), SE5000 (Exakt Duo), SmarTach, EFAS-4.
A Workshop Card is required to calibrate the digital tachographs
What Tachograph programmer can do?
W figure determination on measuring track (with optional photo-cell) or rolling road
K figure measure on KTCO 1314, KTCO 1318 and FTCO1319.
Parameter programming
Activation and deactivation of IMS (Independent Motion Signal)
Activation and deactivation of VDO counter.
Odometer reset and adjustment (mileage correction).
Speed simulation and customizable automatic test diagram.
DTCS reading (Digital) and erasing
Sensor pairing (KITAS activation)
Clock test
Workshop card's PIN recording and input through CD400.
The most reasons that users prefer to Tachograph programmer:
No power connection nor battery charging required, the only tester powered by the tachograph itself.
Compact size the smallest tachograph tester on the market, and weight only 1.5KG
User friendly, clear 4 lines menus, no training required
Automatic tachograph model detection on power on
Double accuracy of the W factor measure on track by detecting half pulses
The only tester being able to reset the odometer and change the sender type on the VR2400
Flash program memory, easy software upgrade using a serial port or USB serial adapter on any PC.
To know more details on Tachograph programmer, the user manual will help.
https://www.autonumen.com/goods-5023-Tacho-Programmer-CD400.html