Feather:
* Support IMMO functions for different makes and models.
* Equipped with UP200 to support transponder read/write/identification, ECU/EEPROM chip read/write and IMMO password read.
* Display live data is text, graph & analog for easy data review.
* Auto VIN technology can automatically identify the vehicle's make, model and year information in no time.
* Support relearn parking brake pad after replacement.
* Support forced regeneration and adjusting injectors.
* Support Steering Angle Sensor (SAS) services.
* Support service mileage and service intervals reset.
* Support TPMS sensor relearn.
* Support battery registration and reset.
* Support online update.
Comparison between Auro OtoSys IM600 and Auro OtoSys IM100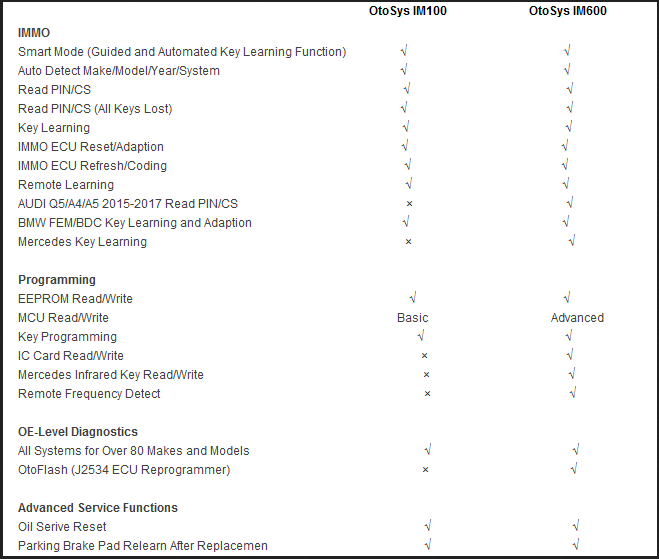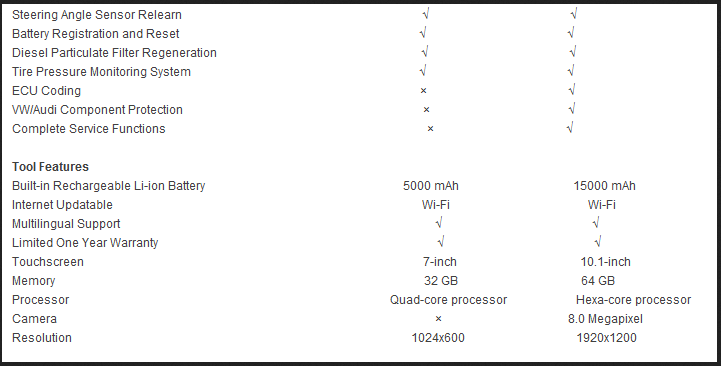 FAQs:
Q: What is the vehicle coverage of Auro tools?
A: By now, Auro tools provide immobiliser functions for over 50 USA, Asian, European vehicle makes and models. The vehicle coverage expands with regular updates.
Q: How to learn a key to a vehicle?
A: To learn a key to a vehicle, usually you need to use the IM100/IM600 to read the password (i.e. PIN code or other similar code) from the vehicle, then log in the immobiliser system with the password and follow the instructions on the IM100/IM600 to complete the operation.
Problem description:
The vehicle coverage chart on the website lists that the tool is compatible with my vehicle, but I don't see it on the tool.
Solution:
Ensure that your tool has the latest software. Update instruction: Power on your IM100/IM600, connect it to the Internet via Wi-Fi and click the Update icon in the OtoSys system to check if there is any update, and then click the Update button if there is an update available, your device will be automatically updated.