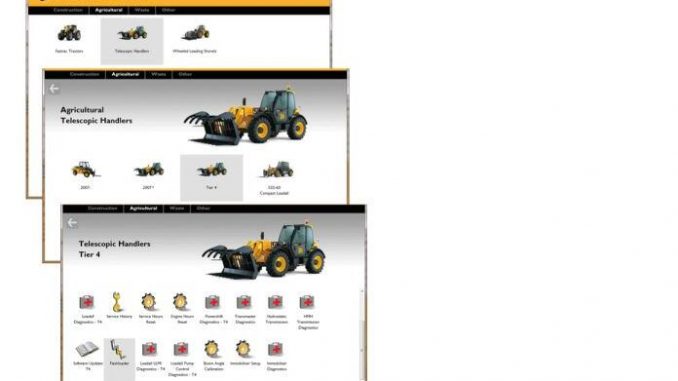 In cases where an engine or aftertreatment system ECU is replaced or a calibration is corrupt, the following process should be used to load the correct engine calibration onto an ECU. This guide will show you how to use the JCB Service Master 4 diagnostic software for engine ECU software update for JCB T4F/T4i/UN3 excavators.
Procedures:
1.Make sure your ServiceMaster is connected to the powertrain CAN bus.
2.Make sure the machine is switched on, immobiliser deactivated (immobiliser code entered or transponder key present) and ServiceMaster is connected. Refer to Activating/Deactivating/Resetting Engine Immobiliser
3.Make sure there are no fault codes stored. Refer to Checking and Clearing Fault Codes.
4.Navigate to the relevant machine FlashLoader tool and select the Engine ECU.


5.Select the additional Info tab and make a note of the make, model (machine type) and power rating.
6.To select a new software file to flash, press the button highlighted in red.


7.Navigate to the relevant machine software folder and select the relevant engine software based on the make, machine type and power rating above.


8.The Flashloader tool will be updated with the details of the new software selected:


Should an incorrect file be selected (with an incompatible make, machine type or power rating), the error below will be displayed (error changes on incompatibility e.g. make, machine type or power rating). Please select the correct engine software.
9.Before pressing start please make sure that:
All electrical connections between the laptop and machine are secure.
The laptop battery is sufficient.
You are familiar with any safety cut out feature on the machine (seat switch) and do not invoke it during the flash i.e. do not interrupt the flash process.
10.Press Start in the Flashloader tool to commence the flash. A confirmation window will appear. Please check the details the select Yes to confirm and start the flash. Selecting No will cancel the flash.


11.If an engine immobiliser is active you cannot flash the engine ECU. You will get a warning message.


12.When the flash is complete the following message will appear. Please confirm and close the Flashloader tool.


13.Navigate to the relevant machine engine setup tool.
14.Select the relevant cold start kit functionality and select the Restore Defaults button.


15.Please confirm the warning message that appears.


16.Once complete, the following message will appear.


17.Switch off the machine and wait for at least 2 minutes before performing any further operations on the machine.
If you need more about JCB Service Master , please click our link: https://www.autonumen.com .