DSP III KM Tool DSP3 DSPIII Odometer Correction Device for 2010-2019 Years New Models By OBD2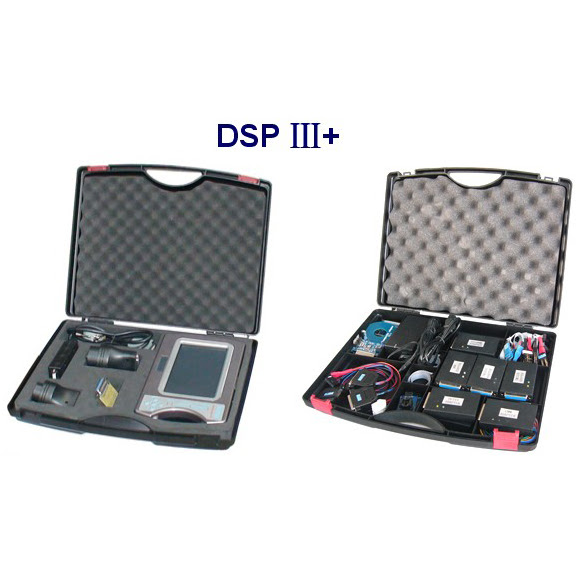 Super DSP3+ Odometer Correction Tool fully supports A-UDI/V-W/SKO-DA/SEA-T/BEN-TLE/MER-CEDES/LANDR-OVER/JA-GUAR/VO-LVO/POR-SCHE 2010-2017 years of models. Details support list please check the following list in "vehicle coverage", thanks.
Language: English
Notice:
1. Please don't update it or it will damage the device.
2. It only supports the models that listing out on this product description's "vehicle coverage" on odometer correction functions.
Introduction
Dspiii at www.autonumen.com is the most complete programming device for digital odometers; it is a high-quality embedded system, which offers a maximum of flexibility and working comfort.
The most advanced odometer adjustment tool for professionals
The most complete version to cover odometer mileage adjustment, airbag reset, some immobilizer programming and radio decoding. No limitation on odometer software! Can be used as stand along device programmer to access any EEPROM and MCU found in automotive industry these days.
Software:
"Full software" includes FULL ODOMETER and some AIRBAG/RADIO/ IMMO coverage using OBD2 and direct programming of EEPROMs and MCUs. For complete coverage advice with "Vehicle List" below.
Hardware:
PDA main unit. Includes the full set of all available adapters: EEPROM, Motorola, NEC, TMS 374, HC711, HC908, 9(S)12 in-circuit, HC705, EWS, NDM457, ST624, TMS 370, CMM, OBD, JC, AVR/PIC, D80/160, Multiplex, C-04, Denso. Includes all connectors and clips: MERCEDES-38 connector, BWM-20 connector, BMW CAS cables, Mercedes cluster cable, FCA chrysler cable, SD card, WiFi adapter, SOIC8 clip, touch-holders (T-01, T-02, T-03, T-04), USB cable, power cables.
Technical reference
Powered by industrial grade core board with Freescale i.MX28x processor, speeds up to 650MHZ, 800*480 TFT LCD and touch screen (7.0″.16:9). Convenient keyset. USB host and USB device. SD card interface. 128MB NandFlash, 128MB DDRII.
We use industrial grade components to ensure the stability and reliability under a wide temperature range, from -40℃to +85℃.
Whole machine passed EMC industry 4 grade quality assurance and durable performance, the product stability greatly improved.
The Wince6.0 operating system can ensure the software platform reliability and compatibility.
Self-check function integrated in system.
Enhanced OBD functions, including CAN-BUS / J1850 / CCD-BUS / ISO9141 / SPI protocols.
Intuitive operability by full menu and picture guidance. All data can be edited, stored and loaded.
Color connection picture is on the screen whenever you need.
The stored data can be transferred to a PC by USB port or SD card.
 DSP III Full Package content:
– PDA main unit, with full software authorization
– Full set of all available adapters: EEPROM, Motorol*a, NEC, TMS 374, HC711, HC908, 9(S)12 in-circuit, HC705, EWS, NDM457, ST624, TMS 370, CMM, OBD, JC, AVR/PIC, D80/160, BCM2, C-04.
– All connectors and clips: OBD cables MERCEDES-38 connector, BWM-20 connector, BMW CAS cables, Mercedes cluster cable,
– SD card,
– All clips,
– All touch-holders,
– USB cable
Power cable