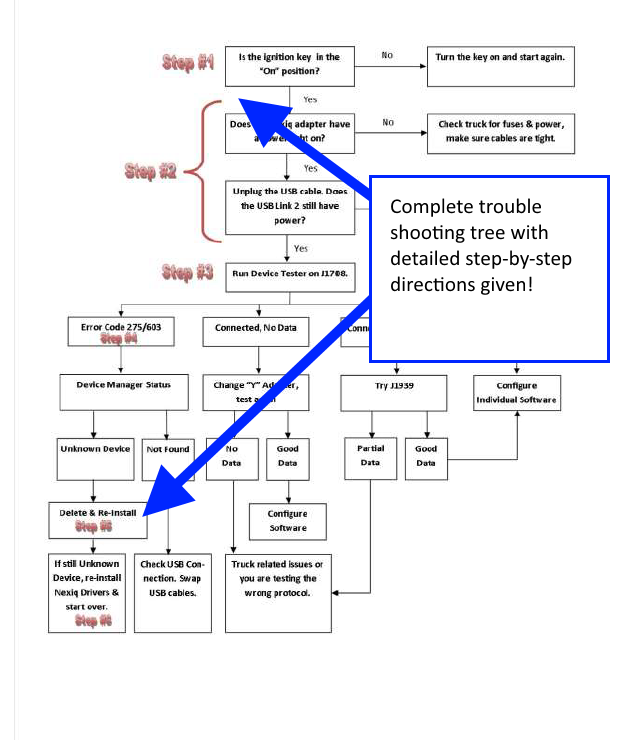 The Nexiq USB Link 2 is the most common adapter in the commercial truck market. Since we sell so many of this diagnostic tool, we put together our own unauthorized guide on this device from Nexiq. This guide covers the following:
How to troubleshoot the adapter when it won't connect
Where to get FREE diagnostic software to use with it
How to configure over 25 pieces of diagnostic software to work properly with the Heavy Duty Diagnostic Nexiq USB Link 2
Where to get accessories, cables, and replacement parts for the adapter
For a limited time during the month of January 2017, we are giving this guide away for FREE. Simply enter your name and email address in the for above, and we will automatically email you the links to download.
Nexiq USB Link 2 Companion Guide
Nexiq USB Link 2 Troubleshooting Steps
Nexiq USB Link 2 Companion Guide Step-By-Step Configuration
Pin Outs of all the Connectors for Troubleshooting
MORE INFORMATION
If you are interested in purchasing the NEXIQ-2 USB Link, it is currently available to purchase from our store. We are not a drop-shipper, as we stock this item at our physical store and ship every day. All the accessory cables are available as well. To learn more about this diagnostic adapter tool, you can also watch our video where we cover the basics and give it a review.