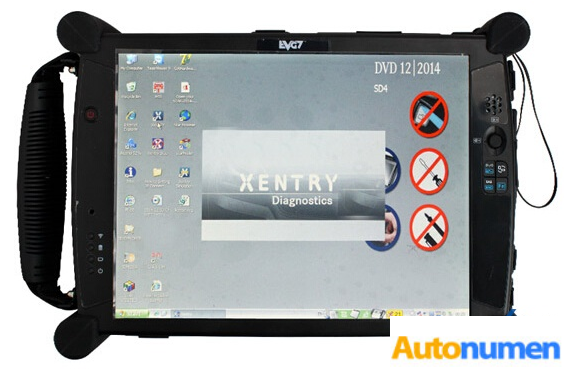 MB Star MB SD Connect 4 diagnostic DAS, Xentry, EPC, WIS etc were tested and verified working on EGV7 Tablet Controller PC by obdii365 technician.
To well install the EGV7 Tablet driver, better following instruction below:
Make sure the EGV7 is well connected to the power adapter
If the system prompt you the driver is not installed, press the ESC button to quit driver installation.
First installation MUST ends with the re-start prompt
After re-start the computer, please wait for 5 minutes and  install the driver with USB mouse, then calibrate the screen with the touch pen.
Free Download EGV7 Tablet PC driver for MB Star Diagnostic software
http://www.obd2vip.com/html/evg7-tablet-pc-needed-drivers-when-install-star-benz-software-23540.html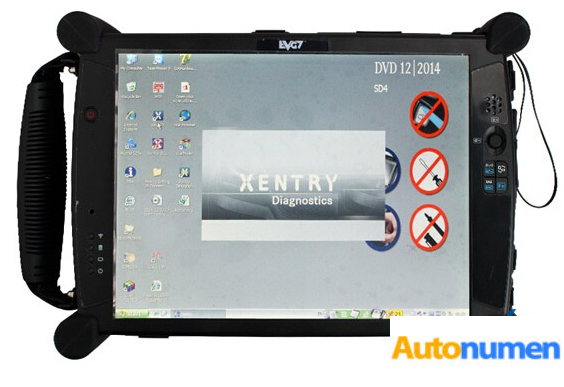 EVG7 DL46/HDD500GB/DDR8GB Diagnostic Controller Tablet PC Parameter
Mark : EVG7
Model : DL46
OS : Win XP/7/8 (not included  )
Processor : Intel Celeron 1037(Dual – 1.8Ghz/L3 2M)
DDR : The biggest support memory : 2GB
HDD : 500 GB SATA HDD. (Can support more than 1 TB capacity )
LCD : 10.4 Inch The resolution of the 1024×768
Graphics :
touchscreen widescreen LED backlight
The core graphics Intel HD Graphics
Speakers : Built-in Speakers
Wireless : 802.11b/g/n
LAN : The built-in 10-100M card
Bluetooth : BT2.0 , 4.0
USB : USB3.0 / Mini USB / 2 x USB2.0
Card Reader : TF Card Reader
Other Interface :
VGA Voice Input / The Sound Output /
DC Power Jack / Parallel LPT Port I/O
VGA Output
Battery Type : 9 The core of lithium batteries 10.08V 6600 mAh
Power Adapter : 110V-240V The adaptive communication power supply
Battery Life : The specific time depending on the use environment
Specifications : 270x180x60 mm
weight : 1911g (with battery)
Certificates : CE / FCC /  RoHS