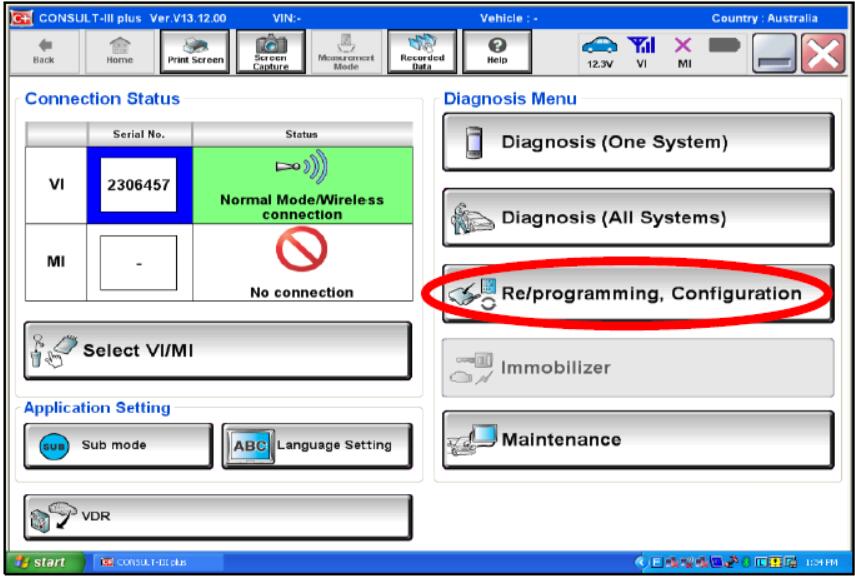 This article focus on how to use Nissan Consult 3 Plus to configure Nissan BCM.Hope it helps,and if you want to know more about Nissan Consult 3 Plus,check:Nissan Consult 3 Plus Projects.
Related Contents:
Nissan Consult 3 Plus Software Download
How to Install Nissan Consult 3 III Plus Diagnostic Software
Nissan Consult 3 Plus Clone Interface
Procedure:
From the Home screen, select the "Reprogramming, Configuration" button2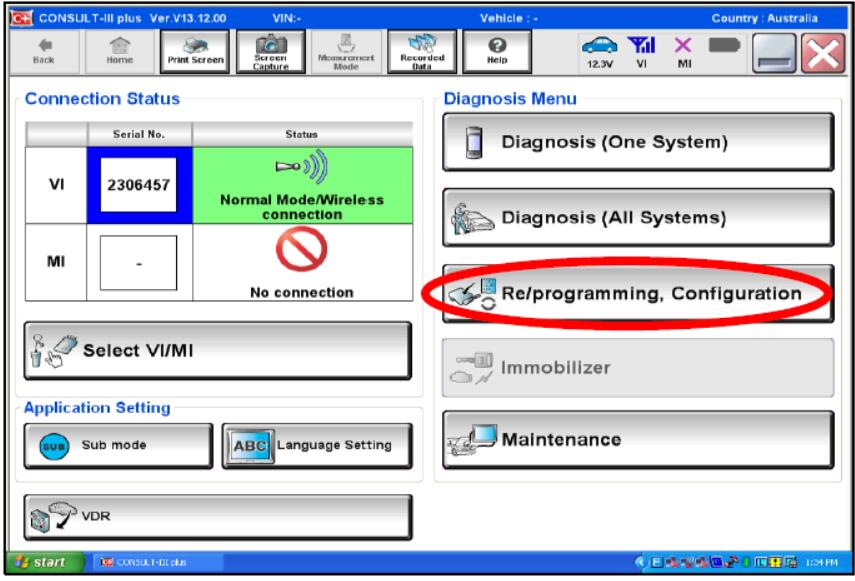 Carefully read the Precautions and then tick the "Confirmed instructions" box.Select "Next".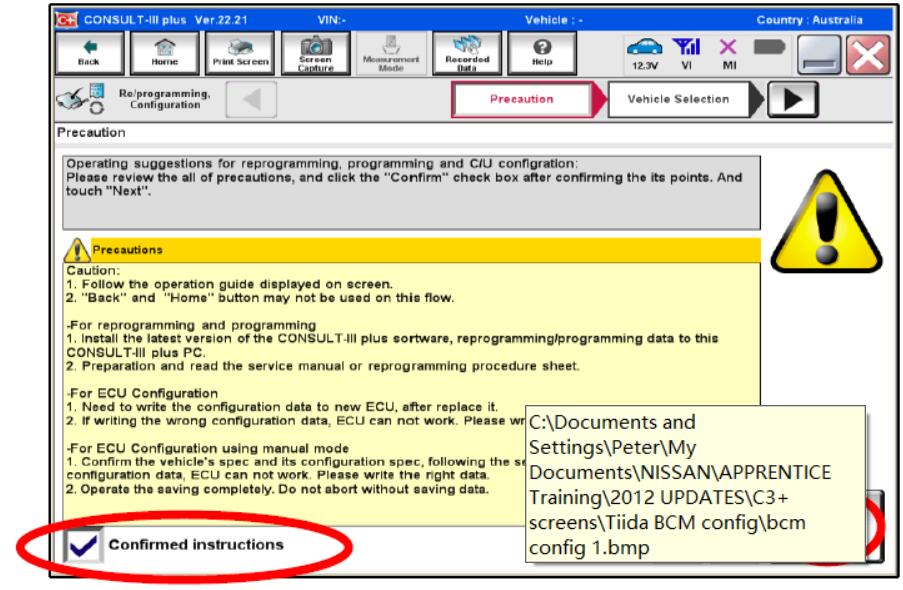 Select the correct vehicle and build date. Click on the "Select" button.Select the "Confirm" button when prompted on the next screen (not shown).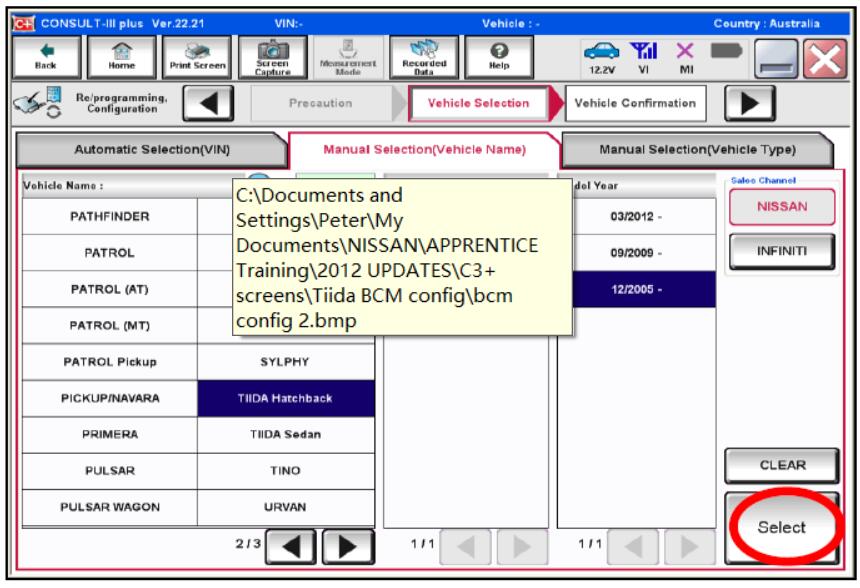 The next screen asks for the VIN to be entered. NOTE:Currently the BCM is configured Manually and the VIN is not required.(i) To progress to the next screen, simply enter any letter into the first VIN box.(ii) Select "Confirm".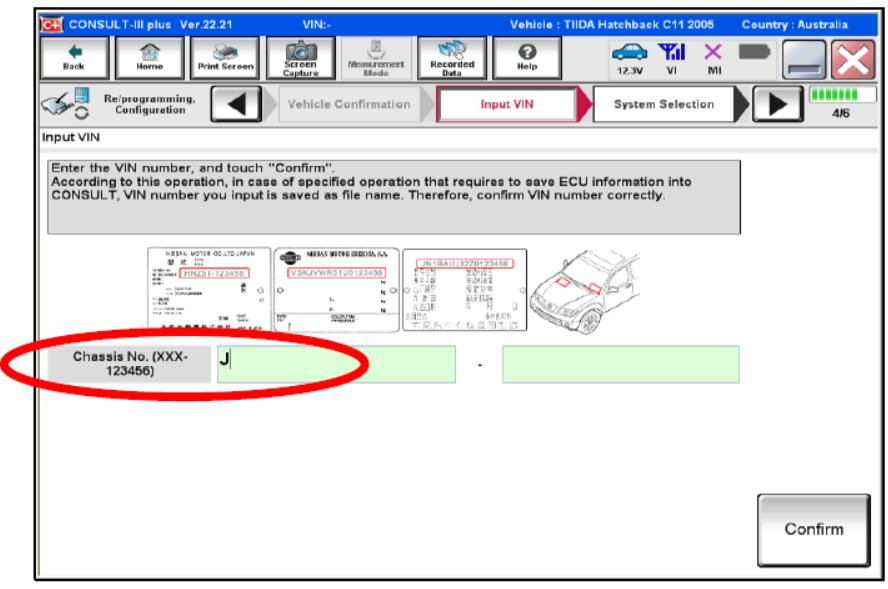 Select "BCM".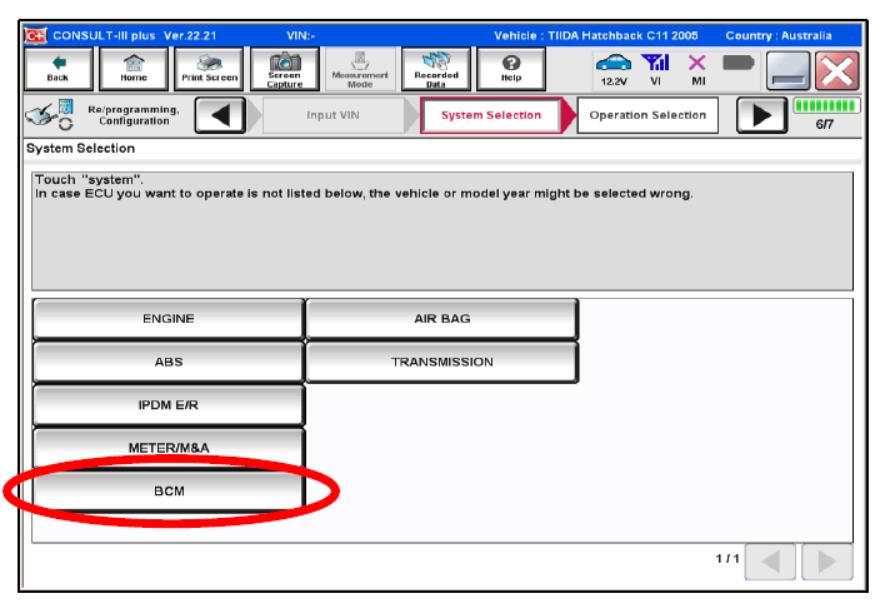 To configure a BRAND NEW BCM to a vehicle (or change any settings) –select the "Manual Configuration" option.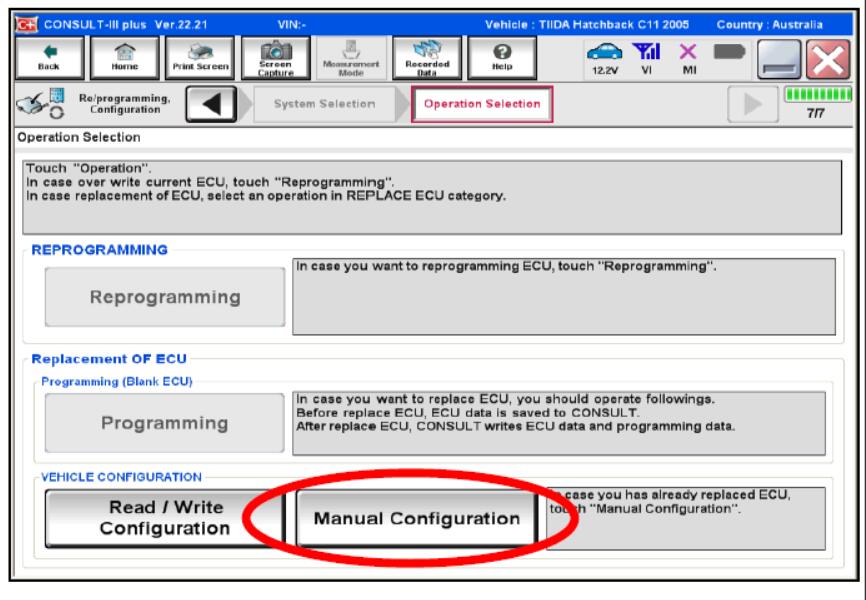 All settings need to be changed to suit the current vehicle.(i) Click on the drop-down arrows (circled) to make the correct settings for each BCM function.(ii) Once any settings have been changed, click the "Next" button in the RH bottom corner of the screen.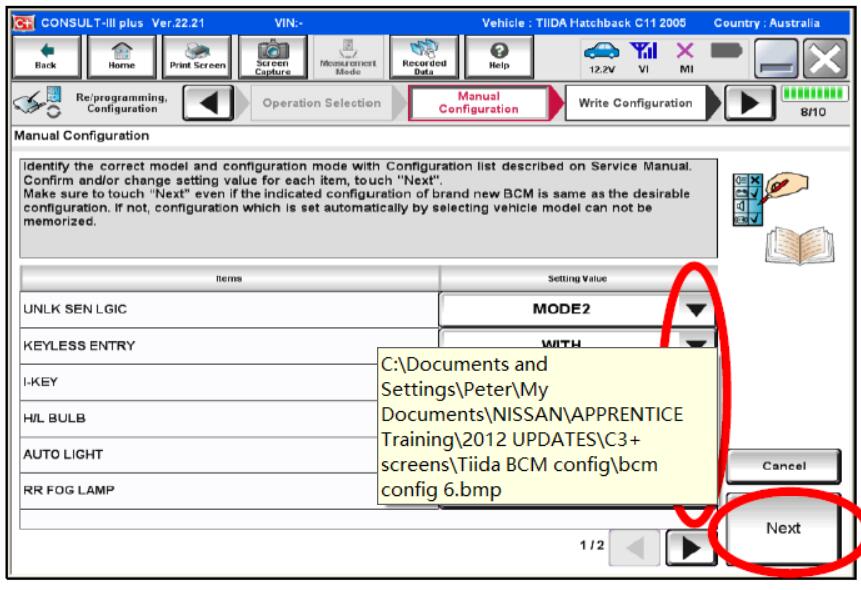 An "OK" button will then appear in it"s place. Click this "OK"button & then the new settings will be locked into place.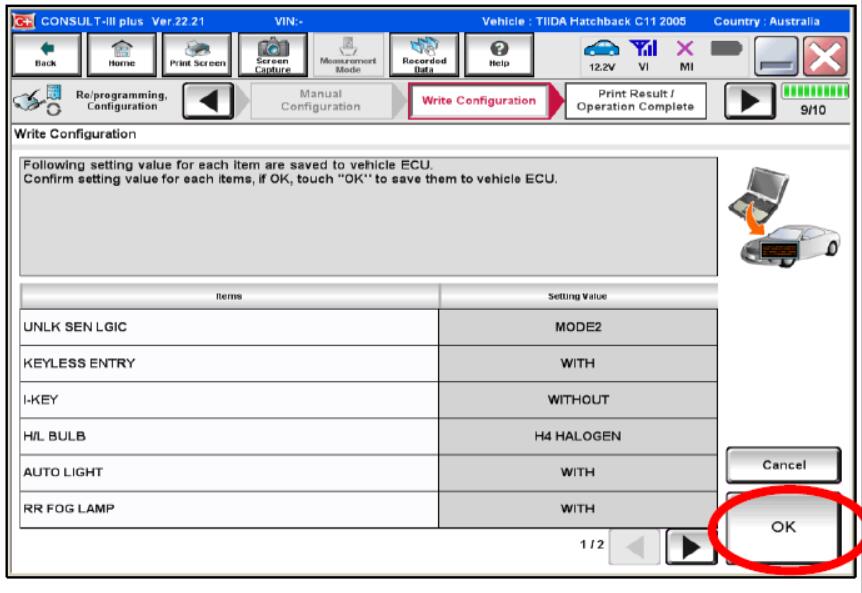 If there is any doubt on what to write to the BCM, connect CONSULT to another vehicle of the same specification & utilise the "Print Screen"option & print off each configuration screen.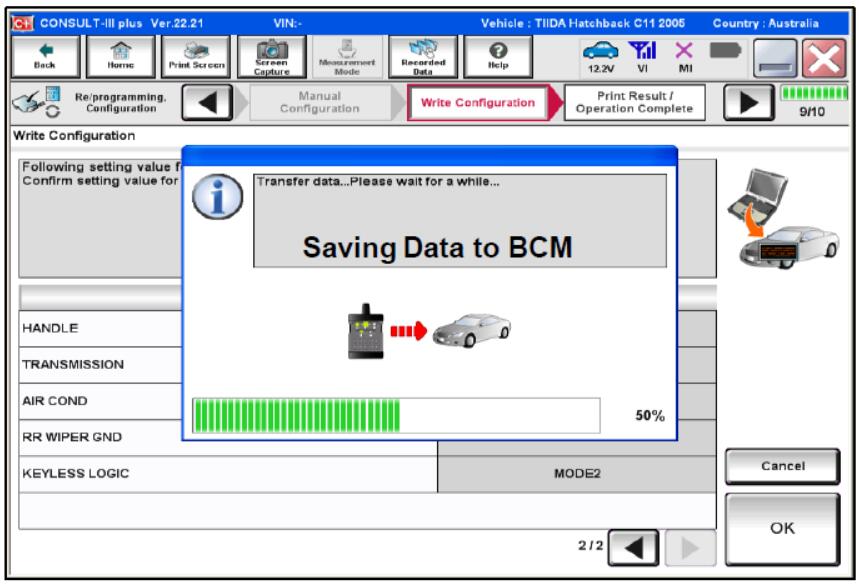 The configuration of most current models is included on the following pages.
C11 Tiida(All variants 2006MY >)-2010MY> Ti Hatch / Sedan variants with "AUTO A/C".-Regardless of Transmission fitted, do not set "TRANSMISSION" as "A/T". (otherwise an Alarm will sound when A/T shift lever is in the "R" position.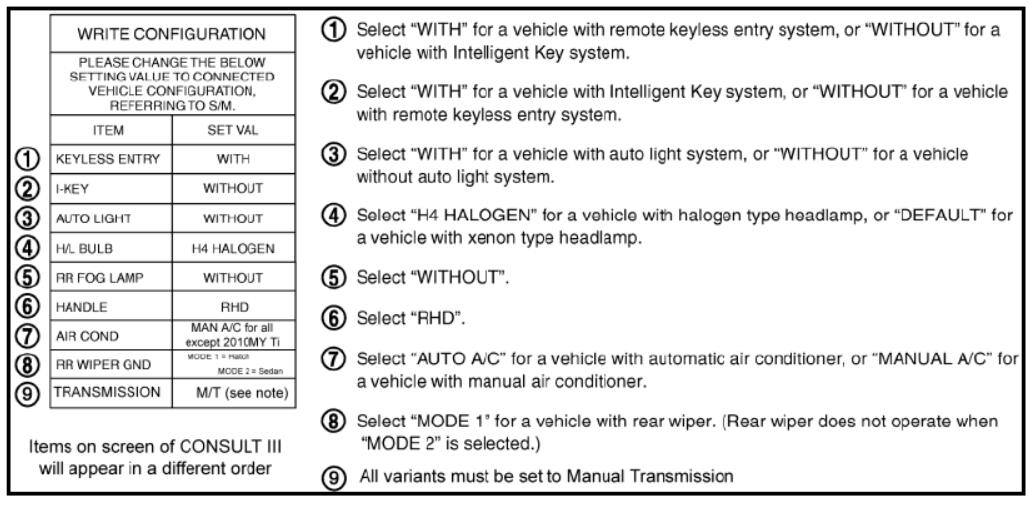 J10 Dualis(All variants 2008MY>)-List shown right applies from Oct 2009 onwards. For earlier models, PTC HEATER & DTRL does not appear on list. Otherwise the settings shown right apply to all J10 variants.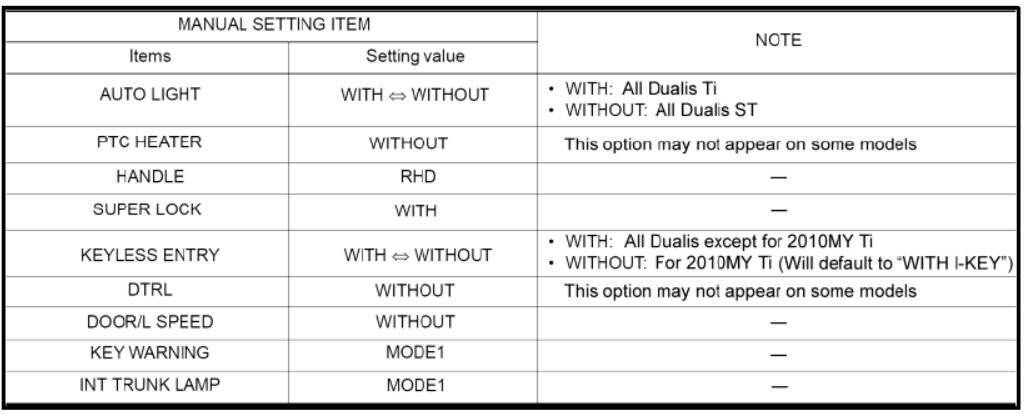 T31 X-TRAIL (All variants 2007MY>)-List shown right applies from July 2010 onwards. For earlier models, there are only 4 changeable items. Refer to the list shown right for these settings.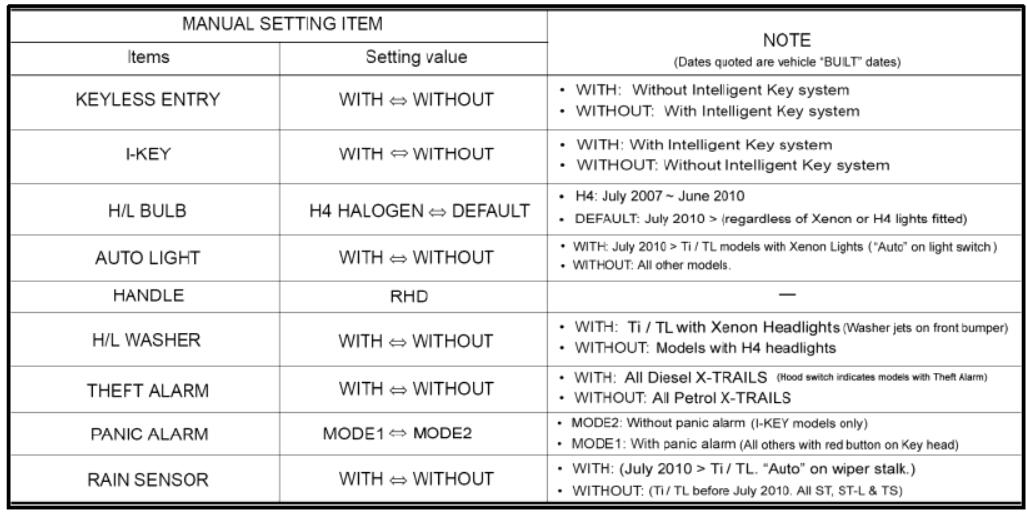 R51 Pathfinder / D40 Navara(Spain / Thai)-The list shown right applies to all R51 & Spain build D40-For all Thailand build D40, there is only 1 changeable item; "KEYLESS ENTRY"-For all D40 RX 2005 ~ 2010MY, KEYLESS ENTRY = WITHOUT


Z51 Murano(All variants 2009MY >)-2009MY ST Muranois notfitted with "I-KEY"-2010MY> ST Muranois fitted with "I-KEY"(Look for small button on the exterior door handles -both front doors to confirm)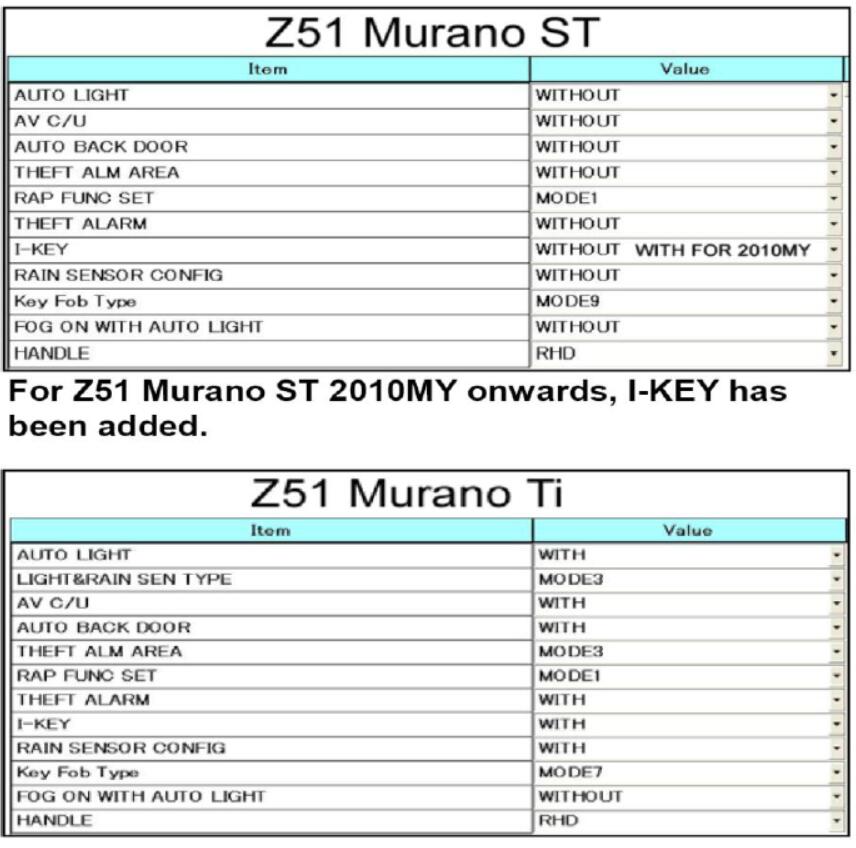 J31 Maxima (All variants 2009MY>)-250 ST-L variant is notfitted with "I-KEY"-250 ST-L / 350 ST-S variants are notfitted with "AV C/U" (colour screen / Sat Nav)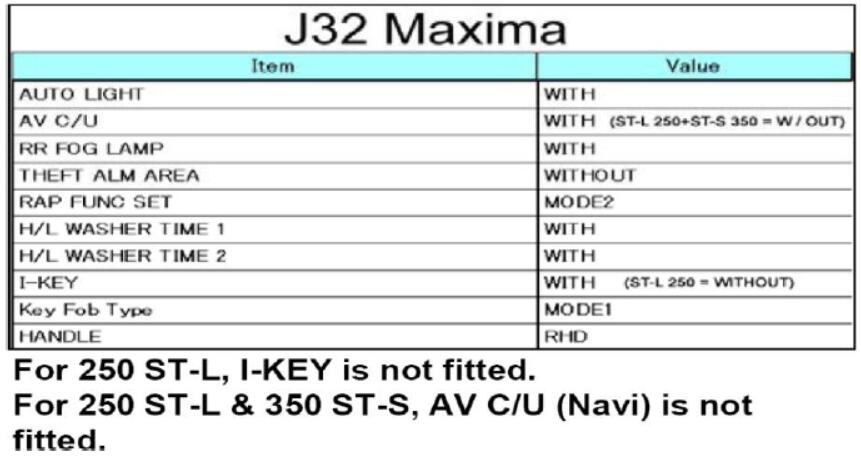 Z34 370Z (All variants 2009MY >)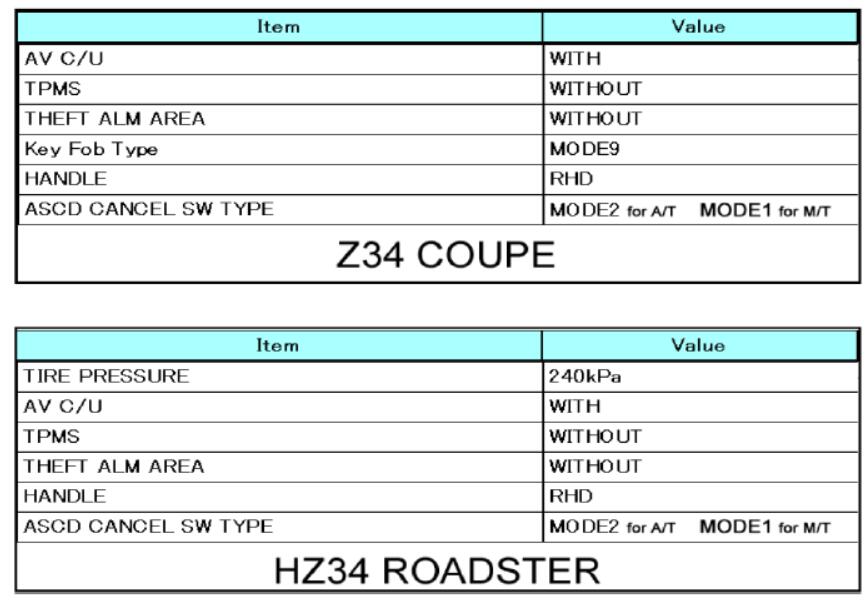 CONFIGURATIONK13 Micra (All variants 2010 MY >)
-Take careful notice of vehicles fitted with I-KEY.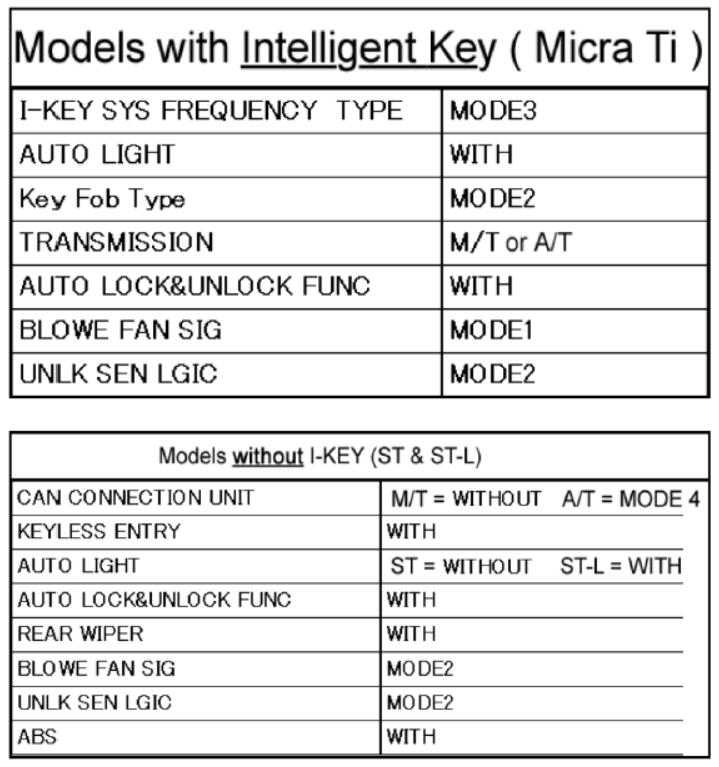 N17 Almera(All variants 2012 MY >)
-Take careful notice of vehicles fitted with I-KEY.